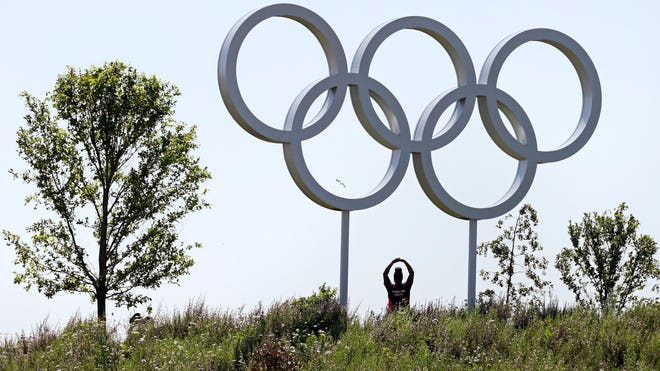 Volunteer Abby Idowu, of London, stretches under the Olympic rings
while being photographed by friends on the other side of a hill
at Olympic Park prior to the 2012 Summer Olympics,
Thursday, July 26, 2012, in London.
(AP Photo/Charles Krupa) (AP2012)
Recently, new information about the Munich Massacre at the 1972 Olympic Games was released by German police as a result of pressure from German investigative reporters. It was reported that the "Black September" terrorists were helped by a Nazi group in Germany to get fake IDs, weapons and access to the Olympic Village.
This was not too shocking, as the head of the IOC in 1972 was Avery Brundage, a Nazi sympathizer and anti-Semite. His protege, Juan Samaranch, eventually served the second longest IOC term as president, but his support of Nazis and the Spanish dictator Francisco Franco was kept a dirty secret. Most IOC members knew the truth but stayed silent because he organized a regal lifestyle for them -- with money diverted from sport….
In 1996, I, along with other Munich orphans and three of the widows, were invited for the first time to the Olympic Games in Atlanta. Before the Opening Ceremony, we met with Alex Gilady. Gilady has been a member of the IOC's Radio and Television Commission since 1984 and has been the senior vice president of NBC Sports since 1996.
I have known Mr. Gilady since I was a kid; in fact, I grew up with his daughter. He had been supportive in the past regarding our plea for a moment of silence during the Opening Ceremonies, so we arrived with high hopes. Gilady informed us that a moment of silence was not possible because if the IOC had a moment of silence for the Israeli athletes, they would also have to do the same for the Palestinians who died at the Olympics in 1972.
My mother said, "But no Palestinian athletes died."
Gilady responded, "Well, there were Palestinians who died at the 1972 Olympics."
I heard one of the widows say to Gilady, "Are you equating the murder of my husband to the terrorists that killed him?" -- Guri Weinberg*, Fox News
* Guri Weinberg is an actor and the son of the Israeli wrestling coach Moshe Weinberg who was one of the Israelis killed at the 1972 Olympics.
To read more, click here.