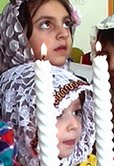 In late June 2012, Mohammad-Reza Rahimi, the Vice President of the Islamic Republic of Iran, addressed an international conference on the proliferation of illicit drugs. In describing Iran's narcotics problem, Rahimi acknowledged his country's extensive border with Afghanistan, the largest producer of illegal opium in the world. But he also blamed the crisis on the Babylonian Talmud.
Rahimi parroted old anti-Semitic screeds about the Talmud preaching Jewish superiority and claimed that it "teaches [Jews] how to destroy non-Jews." Given the alleged absence of "Zionist" addicts from the world—apparently Rahimi is unaware of Israel's documented heroin problem—the Vice-President took the presence of Jews in the international drug trade as an indication of the Talmud's evil influence.
The New York Times and several major Western media outlets published Rahimi's anti-Semitic remarks and suggested that the affair further increased Iran's growing isolation and intensified the nuclear crisis unfolding between Israel, Iran, and the United States. But the media largely neglected to consider how such remarks affected, and were received by, Iran's own Jewish community. Indeed, the broader discourse concerning the current Iranian nuclear crisis has focused solely on Jews living in Israel. Iranian Jews are simply not mentioned. -- Shai Secunda, Jewish Ideas Daily
To read more, click here.